Building Faith at Home
September 10, 2015 @ 11:33 AM by: Jennifer Frank

Posted in
Celebrations
|
Back to Main Blog Page
Written by Pastor Abby Davidson
This book of the law shall not depart out of your mouth; you shall meditate on it day and night, so that you may be careful to act in accordance with all that is written in it. For then you shall make your way prosperous, and then you shall be successful. Joshua 1:8 (NRSV)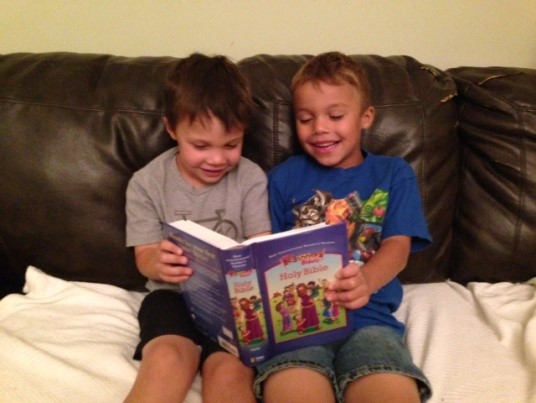 Have you seen any red leaves yet? September is here and even though there are few things more beautiful than the changing trees of an Ontario Fall, seeing the first leaf turn scarlet tends to fills me with dread as I realize that summer is ending. No more long days, no more barefoot walks along the beach and no more Rookie Blue.
Of course there are some things to look forward to in addition to the changing trees; cooler temperatures, a return to school (for parents), and pumpkin-spiced everything! Fall also heralds in the ever-important "schedule". Church activities, school, sports, lessons, and family time all get tossed into the mix and hopefully come out to form a well organized, balanced and colour-coded (for those like me) schedule.
So what's in your schedule for this Fall? Our desire here at Blythwood is that you will make time to worship with us as a community on Sunday morning but also that you will set aside time each day to dive into God's word as a family. As a church we are committed to walking alongside you and your family to help you raise children and teens who are following God but the truth is that what happens here on Sunday mornings isn't nearly as important as what's happening at home.
Parents are the most important influence and resource when it comes to learning about faith and discipleship. For that reason, we want to encourage you to set up a time every day to gather as a family to read scripture, ask questions and pray together.
Here are some ideas you can try with your family:
Try a daily devotional like Our Daily Bread -

http://odb.org/

Read through and discuss a chapter in Proverbs each day.
Bedtime devotions – read a verse of scripture. Thank God for today and pray for tomorrow.
Discuss the Sunday sermon. Focus on a different part of the passage each day and ask questions.
Practice Lectio Divina. Choose a passage of scripture (Tip: Pastor David emails one out every day) and read it through four times. Each time has a different purpose: read, reflect, respond and rest.
These are but a few suggestions. Perhaps you already have a family devotion time at home and if so, we'd love to hear about what you're doing. We trust you and your family can come up with a way to carve out some God-time in your schedules! Let's make it a priority to build faith at home.
-Pastor Abby