Blythwood Out of the Cold
Our History
Since 1995, from the beginning of November until the end of March, Blythwood provided a safe place for the homeless and those in need. Hot meals, clothing, and a mat to sleep on were offered with open arms and compassion, and people could enjoy friendship and fellowship every Saturday night and Sunday morning during the winter months. In mid-March 2020, Blythwood and the other Out of the Cold sites throughout Toronto closed their doors due to the COVID-19 pandemic.
2020-2021 - During the 2020-2021 Covid shutdown, Blythwood OOTC distributed funds and clothing to several front-line agencies that assist people experiencing homelessness.
2021-2022 - We again made financial gifts to front-line agencies, but also partnered with Yorkminster Park Baptist Church. For 15 Wednesday nights as Yorkminster Park prepared and served a hot takeaway meal and lunches, Blythwood provide volunteers for the outdoor roles, and purchased and distributed clothing, boots and important personal supplies.
This year- 2022-2023 – we have moved Out of the Cold downtown.
Because we still cannot offer overnight service at our location, Blythwood OOTC is partnering with Seeds of Hope, using their building at 6. St Joseph Street in downtown Toronto (near Yonge and Wellesley).
From there we are serving people on Saturday afternoons from December 3, 2022 to April 29, 2023.
Each Saturday during the winter our volunteers are purchasing and bringing food to cook, and preparing takeaway meals.
Our volunteers are also operating the existing Seeds of Hope foodbank and clothing room.
In addition to food, Blythwood is purchasing cold-weather clothing and other essentials to help guests get through winter weather and deprivation.
Please join us in praying that the thousands of people who either live on the streets or in shelters or are on the verge of becoming homeless will find support and protection this winter.
We gratefully thank our generous donors and our amazing dedicated volunteers for making the Blythwood program possible. Click here to donate.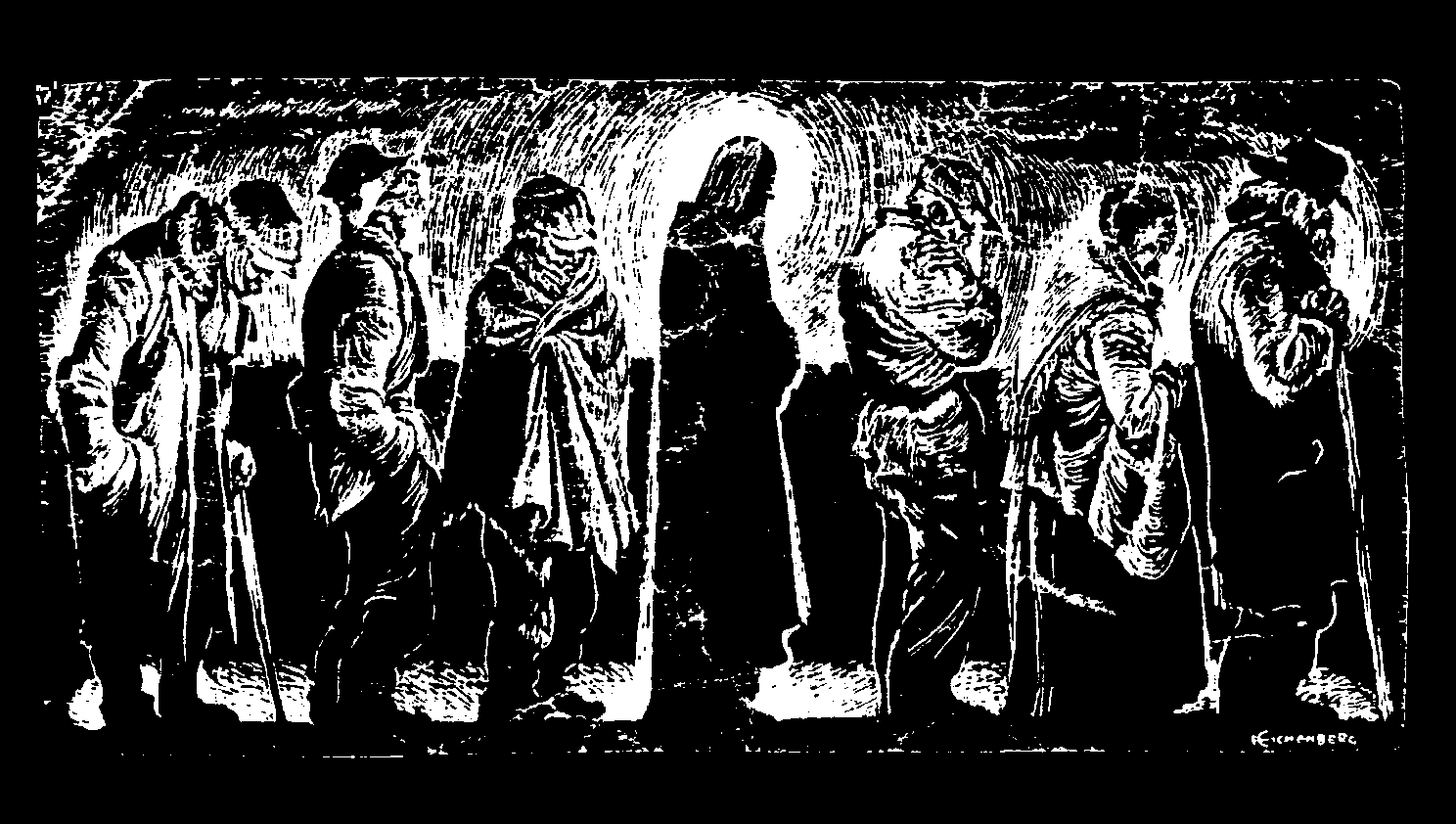 This picture is a woodcut of a line of homeless men and women.
The Out of the Cold Story
Blythwood Road Baptist Church joined the city-wide Out of the Cold Program in the season of 1994/1995, in response to the growing tragedy of homelessness in Toronto. Thousands live on the streets. You see them everywhere; sad, defeated, lonely, and sick. They sleep in doorways, down alleyways, on rooftops, and over the heating grates. Covered in old newspapers and stinking blankets, they are despised and rejected, regarded as an embarrassment and a nuisance in a glittering, prosperous city. But Jesus loves them and died for them. And his command to us to care for them is inescapable.
---