Now in our 26th Season, e

very Saturday evening, from the beginning of November to the last weekend in March, we provide a safe, warm place to stay overnight, two full meals (dinner and breakfast). Through this program, we provide not only food and shelter but a warm welcome, fellowship, acceptance and compassion.
Our volunteers come from many churches, organizations and walks of life. We, at Blythwood, simply wouldn't be able to run the program without the help of others. In addition, Dixon Hall, a social services agency, provides us with security and educational support. We are grateful for the help and involvement of all who have a heart for the poor and destitute of our city.
If you would like to join our merry band of volunteers, please fill in the online application form giving us your information so that we can contact you about opportunities to serve. If you cannot volunteer but would like to donate to this work, please click here to donate.
As our guests would say, "God bless you.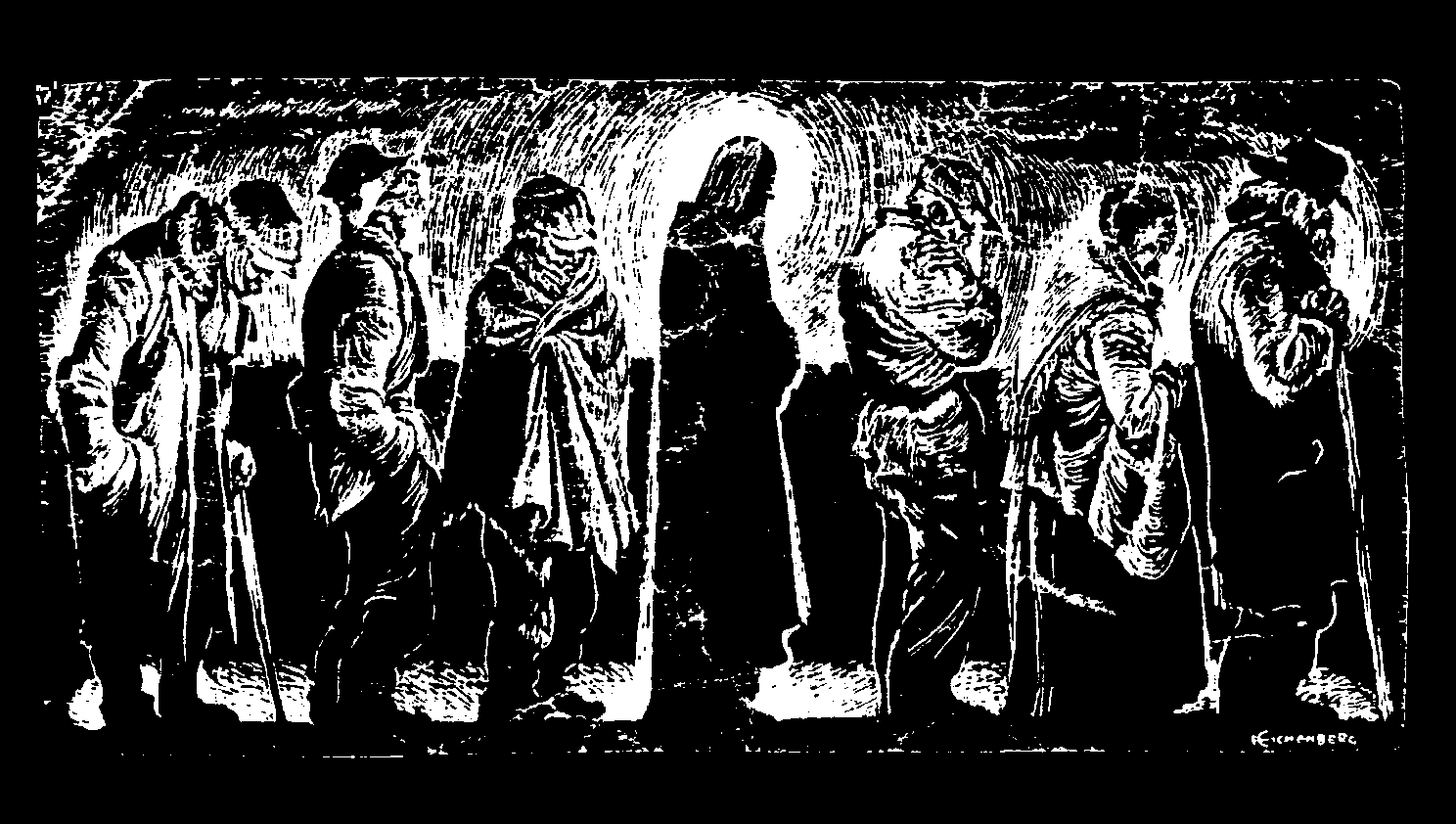 This picture is a woodcut of a line of homeless men and women.
For more about the Out of the Cold Story. Please click here.
Out Of The Cold 2019-2020Season Kicks Off on Saturday, November 2nd,

2019

Interested in Volunteering? We are entirely volunteer-run and volunteer dependent and are always in need of dedicated volunteers who can give two to fours hours on a Saturday evening. Please contact Susan Thomas at 416 723-3211 or office@blythwood.org

Donations are gratefully accepted to help run the program costing over $20,000 each year and this is over and above the meals donated by our partner groups and congregation.

We are always in need of Men's Warm Clothing and Winter Boot donations. To see the list of items in demand please

click here

.

To drop off a donation please

contact

office@blythwood

.org

or Jennifer at 416-487-4571

Interested in organizing a Clothing Drive at your place of work, school, church or neighbourhood? We are always desperate for Winter Parkas, Boots and Jeans. Please see the attached flyer to kick off your clothing drive

Click here

.

Volunteer's Out of

the Cold Manual

2019-20
Out Of The

Cold

2019-20 Site Schedule

Click here

Fundraiser for Blythwood Road Out Of The Cold Program

Are you looking for a fun and engaging group volunteer opportunity while making an impact? Help us build Out Of The Cold Care Kits for Blythwood Road Baptist Church. There are no limits to group sizes; whether your group is 5 or 500, you can help us, help our OOTC community at Blythwood! To learn more about the program Click Here

Out of the Cold Newsletters
Blythwood Road Baptist Church joined the city-wide Out of the Cold Program the season of 1994/1995, in response to the growing tragedy of homelessness in Toronto. Thousands live on the streets. You see them everywhere; sad, defeated, lonely and sick. They sleep in doorways, down alleyways, on rooftops, and over the heating grates. Covered in old newspapers and stinking blankets, they are despised and rejected, regarded as an embarrassment and a nuisance in a glittering, prosperous city. But Jesus loves them and died for them. And his command to us to care for them is inescapable.
On any given Saturday evening you will see guests sitting around chatting, playing cards and enjoying each other's company. Some of our volunteers feel at ease mingling with our guests, listening and sharing their faith. Our guests may be destitute when it comes to material possessions (how much more destitute can you be than to have no roof over your head?) but some have a lively faith and they cling to it doggedly – it's all they have. One woman offers to say grace and says it beautifully. A man's eyes light up when he talks about Jesus. Many express their appreciation for the meal and follow it up with "God Bless."


---