Reporting From Bolvia - First Week
August 24, 2017 @ 8:11 AM by: Jennifer Frank

Posted in
Celebrations
|
Back to Main Blog Page
Written by Rev. Abby Davidson
Our fir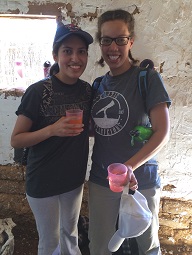 st few days in Bolivia have been tiring and wonderful. We flew into Santa Cruz on Saturday and stayed there overnight before flying to Cochabamba the next morning.
Patty, who works for CBM in Bolivia met us at the airport with a Canadian flag. She took us to our hotel where we got settled in and had a meal. Then we headed out to one of the local Baptist Churches as they were having an afternoon service to celebrate their 53rd anniversary. They welcomed our team and I was able to bring them greetings from Canada. After the service, we ate cake (so much cake!) and spent some time talking with the church members.
On Monday, we had our orientation at the CBM office. We met the staff and missionaries and found out what to expect during our trip. We reunited with Bill and Janice Dyck who arrived in Bolivia in June and are settling in nicely.
In the afternoon we packed our things and made the long drive to Aiquile. We will be staying in Aquile until Friday as we work with the Chagas project. We have two teams working on two houses.
This afternoon (Tuesday) we had taken a break from work to play a soccer game with four of the children that live in the house. It was dusty and a lot of fun! The families we are working with primarily speak Quechua so communication is difficult but playing a sport together seemed to break through that barrier with the children.
The other team has a hard job as they are doing the roof of the house but everyone seems to be enjoying themselves. The family in the second house has a three-year-old daughter who is enjoying the bubbles the group brought with them.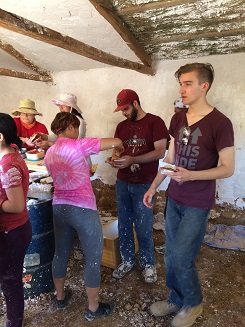 We have two more days of working on the houses and then hired workers will come in and finish whatever is left. We are grateful to be able to spend time with these two families as we work and play together.
Last night we attended a church service at Iglesia Evangelica Bautista. They invited us to introduce ourselves and sing a song for them. We were able to sing two songs, both English with the chorus in Spanish!
Everyone on the team is working hard and really enjoying taking everything in. Only one person had altitude sickness and has since recovered. We are really enjoying getting to know the Bolivian volunteers who have joined our team. We are learning a lot from them.
Please continue to pray for our team!
Dios te bendiga!
Pastora Abby